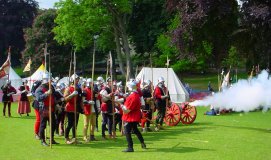 Welcome to Buckingham's Retinue, one of the more authentic re-enactment groups for the period 1450-1500. Our society is a non profit orgainsation that exists to reconstruct and re-enact late medieval life, recreating the period known as 'The Wars of the Roses'.
If you are interested in taking up re-enactment as a hobby, check out our
Recruitment
section to see the kinds of things we do and how you can take part. If you want to see us in action, here is Buckingham's Retinues
Events List
for 2015.
If you own or manage a historical site and want to know how Buckingham's Retinue could bring it to life, please read our
Employers'
section.
We also have a wide variety of information about medieval life, from histories of the wars of the roses, guides on clothing, songs, weaponry information, as well as a history of the Stafford Family, who were the first Dukes of Buckingham.

Please feel free to contact us.