Welcome to Buckingham's Retinue Reenactment Site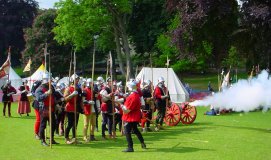 Welcome to Buckingham's Retinue, one of the more authentic re-enactment groups for the period 1450-1500. Our society is a non profit orgainsation that exists to reconstruct and re-enact late medieval life, recreating the period known as 'The Wars of the Roses'.
If you are interested in taking up re-enactment as a hobby, check out our recruitment section to see the kinds of things we do and how you can take part. If you want to see us in action, here is Buckingham's Retinues events list for 2013.
If you own or manage a historical site and want to know how Buckingham's Retinue could bring it to life, please read our employers' section.
We also have a wide variety of information about medieval life, from histories of the wars of the roses, guides on clothing, songs, weaponry information, as well as a history of the Stafford Family, who were the first Dukes of Buckingham.
Last Updated ( Monday, 18 March 2013 )
Buckingham's Retinue performed their latest murder mystery event at Skipton Castle over the weekend of 20th/21st July. The group members brought the castle to life as a working medieval household, while simultaneously investigating in character the suspicious death of a Bishop with the help of members of the public. As ever the plot was detailed and complex with many false leads for our investigators, and some factions actively working to avoid detection or frame other people, but we can finally reveal the background and the plot (click read more for full reveal)

Last Updated ( Wednesday, 11 September 2013 )
Read more...

Buckingham's Retinues mummers were the centre piece of the Saint George's celebrations at Donington le Heath manor this weekend. This little known gem of a medieval house in Leicestershire is a wonderful site for the group, with just enough room for a well laid out camp visible from the road to help draw people in and nice areas for displays. Donington is well supported with a large group of friendly volunteers and a small number of staff working to keep the site alive, with herb gardens, orchard and a little maze, they just need more people to visit and appreciate the efforts they are putting in, so if you are in the neighbourhood please pop in and visit - it is usual free and was only £2 when we were there.

I arrived on site at 4pm Friday in order to collect the keys, and to discover that Burgundian tents might look well and good, but are not something that I can put up on my own (though I did get quite close, and think that if I could have reached my bills from the bottom of the van it may have been possible). Most other people turned from around 6 and we got the camp up in fairly good order, with display tents nearest then entrance and arena, then funnelling down to closed tents at the far end of the orchard.

We had quite a posse of young children at the event, with Bella, Lettie, Katy, Finley and Ellie running around, but the event also marked the debut of William Thomas Brown who was by far the youngest member of the group at 5 weeks old. Congratulations to Darren and Rachel!

Read more...

The coldest Easter on record saw a hardy group of Buckingham's Retinue members assemble to start the 2013 season with a 4 day event at one of England premier attraction - Warwick Castle. We had a prime location on the East Front between the main public site entrance and the main gate into the castle, so it was very busy each morning, though quieter in the afternoons as the public dissipated throughout all the attractions that Warwick has to offer. Space on the East front was at a premium this year, so we had to pitch the tents up close up against each other, but did manage to leave all the display tents with good public access, and share a common fire/cooking area with our friends from the Clarences. This year Horrible History are in residence at the castle so we slightly scaled back our normal show, with no action on the River Island although we did provide crew to the Trebuchet again, and watched from the far end of the island as it hurled fireballs towards us.


For the participants the main concern for the weekend was keeping warm, with temperatures reportedly down to -6 overnight, the water tap froze solid, as did cooking oil, alcohol wipes and any liquid left in the open. I did manage to get my new coat to a wearable state before the event, and brought every spare over kirtle, coat, livery, blanket and gloves that I could that I could get my hands on, but it was still bitterly cold at times. The Warwick "safety" wood did not help, though it did keep me warm chopping it up into more burnable chunks, and pumping the bellows to try and keep the fire going.

Last Updated ( Saturday, 13 April 2013 )
Read more...

The first re-enactment of 2013 actually took place last Tuesday (12th March), as a small group of Buckingham Retinue members congregated in a car park in a top secret location somewhere in Warwickshire to record a segment for a prime time TV programme that will be aired later this year. Unfortunately due to the nature of the programme we are unable to reveal much about the nature of the film work at this time, but will publish a broadcast date as soon as we have it.


Compared to previous TV work we have undertaken, this shoot was quite frenetic with close to 3 hours of solid filming in the morning – mainly of a small skirmish from various angles, and using a multitude of small camera attached to helmets, armour and bills as well as the main camera for longshots and extreme close ups, so hopefully there should be some good pictures for the final cut.

A little more filming and interviews took place in the afternoon, before we packed up and headed of home. I would like to say a big thank you to everyone involved and once we can release more details they will be posted back on this site.