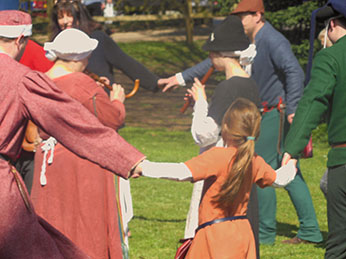 Buckingham's Retinues mummers were the centre piece of the Saint George's celebrations at Donington le Heath manor this weekend. This little known gem of a medieval house in Leicestershire is a wonderful site for the group, with just enough room for a well laid out camp visible from the road to help draw people in and nice areas for displays. Donington is well supported with a large group of friendly volunteers and a small number of staff working to keep the site alive, with herb gardens, orchard and a little maze, they just need more people to visit and appreciate the efforts they are putting in, so if you are in the neighbourhood please pop in and visit - it is usual free and was only £2 when we were there.
I arrived on site at 4pm Friday in order to collect the keys, and to discover that Burgundian tents might look well and good, but are not something that I can put up on my own (though I did get quite close, and think that if I could have reached my bills from the bottom of the van it may have been possible). Most other people turned from around 6 and we got the camp up in fairly good order, with display tents nearest then entrance and arena, then funnelling down to closed tents at the far end of the orchard.
We had quite a posse of young children at the event, with Bella, Lettie, Katy, Finley and Ellie running around, but the event also marked the debut of William Thomas Brown who was by far the youngest member of the group at 5 weeks old. Congratulations to Darren and Rachel!
The event was a really short day only starting at 11, which gave us time to rehearse before the inaugural performance by Buckingham's players of Magipegs combat play, complete with new fools mask and cloak in addition to the already excellent dragon outfit. For a first performance I thought that it went really well, and quick costume change between Sevens Champions and Magipegs was easily filled with a brief background on mummers plays. Each performance over the weekend improved as the cast gained familiarity with the role, while everyone was excellent the parts that stick in my mind most were Victoria's use of the leak - a prop obtained for saint David but used to mercilessly beat Mike's fool, when she played as the doctor (as you can plainly see) in Magipegs.
We used the small combat arena for Medieval games, which worked well by ensuring that the competitors were virtually on top of each other, victories for John, Victoria and one tie in the buckler ball, Mike with a very strong showing in the hat fencing, recovering well when the tail of hit chaperon was grabbed to secure victory. I tactically worked with Victoria to take out Rory in the ass kicking only to discover that she does karate and even hampered by a long skirt was a tough opponent to defeat, with no option to repeat the famed Cook gambit from Warwick.
Zoe led an engaging fashion talk after lunch that probably held the biggest crowd of the weekend, before the kids drill. On Saturday the rice pudding desert from lunch was somewhat delayed and only ready during kiddie drill, which lead to an amusing drill display as Rory armed with a bowl of rice pudding, spoon attempted to perform all the bill manoeuvres while still eating.
We ended each day with a military segment, running arming of a knight into a combat display and taking the opportunity to give Pete and gentle introduction into line fighting, which will be useful for the battle events that follow later in the season.
After the public had gone home on Saturday we had a pleasant evening around the camp fire, and a played the maze game again, blindfolding Pete and Rory, then calling out directions to guide them simultaneously through the manors maze.
Sunday we had a very rapid pack down, as the weather started to change at about 3:30 with a brief shower at about 4:30, but we had managed to break down a lot of the group canvas before this and the shower was light enough that we did not have to dry the tents out at home.
All in all an excellent event, and we do it all again in a few weeks time a mile or two down the road as Ashby.