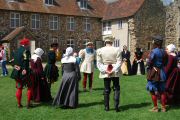 I drove through the twisty Suffolk lanes on the way to Framlingham castle with a sense of trepidation. I was in charge of a Buckingham's Retinue event for the first time in years; and I had a number of challenges to face.

Firstly the event was set in around Mary I's ascension to the throne in 1553, about 70 years later than the time period Buckingham's Retinue normally operate in. This meant very little of our medieval kit would be valid, leaving us very short of period kit and knowledge. I had quickly skimmed through one book on Mary Tudor, but realistically I knew that no one in the retinue would be able to answer any really difficult questions the public posed about the period.
The second challenge was that we were working in conjunction with two other sets of historic interpreters, neither of which had worked with each other, or with us before. I knew from the other groups reputations that they were both quality groups, but in some respects that worried me more, as in re-enactment (as in many other hobbies) politics, egos and snobbery can cause people to work against each other, rather than together and I felt that the best chance of a ensuring that this was a good event was for us all to pull in the same direction.
The next issue was that a number our regulars were unable to attend, so everyone else would need to have to work a bit harder than normal in order to fill the gaps, and bring the castle to life.
Finally the English Heritage special events coordinator for the area had decided to oversee our event, so if I messed up we may not be back for a long time.
Framlingham was just as pretty, though slightly bigger than I remembered it. We quickly selected an arena area in one corner, and left Lucy from EH to rope it off, whilst we setup the camp in a crescent shape to give a natural area for the public to gather to watch us. After pitching all our tents and unloading all the vehicles, we spent some time working out where best to place the display awnings, which gave Lucy time to finish roping off the arena before we were completely setup. [If you read this Lucy, the bunting did look really good, but get someone else to do it next time].
Sunday saw the arrival of the other two sets of historic interpreters with Kathy and Izzie from Griffin Historic, and Kevin Hicks + son from the History Squad. Luckily we all got on, and there was quite a bit of "I will do that", "can you do that", "can I borrow this", "do you want that" as we meshed from 3 separate groups into one combined show. Kevin incorporated his guns and powder into our archery display, to convert it into a full firepower routine. We used our drummers to gather a crown for Kathys "Mary", made space for her in one of our display awnings when it rained, We bowed and grovelled whenever she passed as an example for the public. Mary commanded dancing and entertainment (at the relevant times) and oversaw some of the Archery practice.
All in all the Sunday went well, we brought forward, and shortened our initial drill display, to give create a timetabled slot for Kevin, pulled in a large number of people for the dancing, and improvised a good combat display, including a sword routine between William and Andy. Two new members, (but experienced re-enactors) Kate and Mark spent most of the day doing a dyeing demonstration and talk. Frances and John did a great job on their first time cooking, and as one of the washing up volunteers, I would recommend letting them doing it again, as all the pots and plates were scraped clean long before I got to them.
In some ways our lack of numbers worked in our favour, as we had exactly enough spare low status Tudor costume to cover the people who only had medieval kit, so everyone looked Tudor, and there was plenty for people to do, to feel involved. We also found that although we did not know too much about Mary, we knew much more that the public did, and we easily coped with any questions that were asked.
The feedback heard from the public and English Heritage staff on Sunday, was that it was a show excellent, I could not help having a great big grin when I heard this, because I knew that as ever the show would be even better and slicker the following day, and so it proved.
In the evening Chris first denied all knowledge of chess and how the pieces moved, then proceeded to beat William at a game, using the castles massive chess set. The rest of the evening was mostly spent trying to tire out Jessica, unfortunately the method we selected to do this was to put her on the wheelbarrow and run her round the castle, with the calls of "faster faster", and "again again". Unsurprisingly we were all exhausted long before she was.
The weather was colder on the Monday (sometimes bitterly so), and with intermittent showers it meant although we had more public in the castle, they tended not stay as long but we still managed big crowds for all our set piece displays. As we relaxed into the roles we started to have fun bowing down to the Queen, even though she was far away to acknowledge us, then getting up again after a bit because "she is only JUST Queen", or coughing to get attention. To give me a break from manically running around, we talked John in doing his first public arms and armour talk, and he did much better that I ever did first time out so we plan to volunteer him again.
Two more new members, Greg and Carol arrived. We did a quick bit of weapons training with Greg, and told him that the display would just be gentle sparing, aiming for the bills with no chance of getting hit. Then Andy managed to stack the sides so it was it ended us with experienced people vs newer members and I ended up charging forward, screaming at Greg before pushing him about 30ft backwards into the castle wall [in a very gentle and controlled way though;-)].
One of the measures I have for if the show is good or not is if the public are so inspired by what we do that think I want to do that - how do I join?. And we had more requests to join the group at Framlingham than at any event since Castle Rising 2007.
I ended the weekend driving back up the Suffolk lanes feeling exhausted, and really proud of what the retinue had achieved. We had delivered a great show for the public; had gone above and beyond what had been asked of us and made new friends in the process.