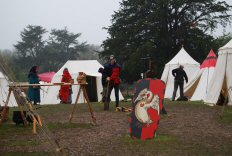 Bodelwyddan Castle was a new event for the intrepid members of Buckingham's Retinue, but like good men & women of Stafford we bravely entered that part of the world that has 'here be dragons' on the map.
Arriving at the event after a suprisingly easy trip to find the Castle was visible from the main road was a pleasant suprise, if only all sites were this easy to find! I had been told the group had a choice of pitches, either next to the beer tent or next to the portapotty's, as it turned out being sited next to those wonders of sanitary engineering was a blessing in disguise for not only was it easy to find them in the dark, it meant we were the first group the public encountered on their travel through the site - but more of that later.
After a fairly easy set-up - in daylight no less! - we set off to the beer tent to meet old friends & make some new ones. Vikki Eves managed the best by being accosted by a strange denizen of those 'forn parts' & was subjected to a love song in the local tongue, i suppose it was fortunate she didn't understand a word of it!
Saturday was fine(ish) weather & the omens were promising. A goodly number of public entered our camp due to our fortunate catchment position & the group enjoyed the not always familiar sensation of pleasant & interested members of the public interacting with us all.
It was at this point things went slowly downhill for your Gallant Captain....
Two young representatives of the most gracious God's Company of Tabor arrived in camp with a letter for one 'Captain Clegg'. Upon opening said letter i found the Hussites (Tabor) were complaining of being bored..... I really should have realised my impending doom at this point.
The emmissaries were most insistent that we replied in kind to God's Company of Tabor & the camp sprang into activity as ink, pen, wax & seal were duly produced from various sources ( i know who you all are & i hold you all equally responsible!) Whilst Master Hatfield laboured over my dictation i explained to an interested crowd how messages were often sent between various factions & the importance of extreme politeness in order not to cause offense amongst armed groups - another mistake.
The letter was written, sealed & sent upon it's way then duly forgotten about.
Approximately one hour later a full & formal embassy arrived from the Hussite camp, comprising of both Officers of God's Company & two Stanleys bearing banners & (ominously) a cup of water. A formal message was presented & i was urged to read it out loud, that all our people may hear the good news.
Eager to show off the fact that i can actually read without using my forefinger i embarked upon the message.
It was fairly standard, flowery fare, until i got to the Post Scriptum....
"P.S. I have instructed mine herald to throw water in your face"
Upon which utterance yours truly was drenched to the point that my feathers did pathetically droop to the sounds of hysterical laughter from the public & more worryingly the rest of the household - whatever dignity i thought i had prior to that point dripped slowly and amusingly off the end of my nose!
Upon arriving at the muster for the battle your embattled hero was once again subjected to ridicule, this time by an anonymous voice (i know it was you master Horsfield!) who commented "ooh look, it's seven snow white's & dwarf!" to much merriment from the rest of Lord Glyndwyr's forces.
By the end of the battle i had recieved several rapid promotions to the effect that i was then to be addressed as General Clegg after a character from a sci-fi comic, or so i am told. Your intrepid Captain led his troops in his very first battlefield command & even managed to turn around almost certain defeat by the simple expedient of not reading the script - apparently the ending was 'open' & muggins managed to persuade the opposition commander that we were in fact supposed to win! (i'll have to remember that trick). Just to confound my stupidity i then managed to attack one of Lord Glyndwyr's men & wondered why he was so upset about it - to prevent this the poor chap was made my bodyguard the next day!
The tale of the water did the rounds that night in the beer tent & i recieved even greater promotions.
As is often the case in those primitive lands, the weather took a turn for the worse during the night to the point that some poor souls in the Hussites found they had a spring welling up in their tents - i will say naught about a just punishment from a vengeful God upon those heretics...
At the Captain's Meeting that morning there were a lot of long faces, nobody thought the event would go ahead but fingers were crossed (in some cases toes as well) & we all hoped for the best. Amazingly, not only did the public turn out to see the show, the weather lifted just enough that a fight could happen. Because of the rain & the ensuing watery conditions i did recieve yet another round of field promotions - plus a rather subtle one from Myk of the Hussites.
Mistress Service did remind us of the tourist board advert that told us we could take anything from Wales apart from the mud - that was going to be difficult as we were all liberally coated in it - apart from young Bethany & Jessica who were also wearing this seasons must have accessory of bright blue candy floss on their faces, in their hair/ears/noses etc.
All in all a suprisingly pleasant event that i would not mind attending again. The public were suprisingly enthusiastic & pleasant & we all enjoyed ourselves. Just to prove that God does indeed shine upon the righteous, the sun did break through the clouds upon our re-entrance to the civilised lands of our Blessed England.
Your undignified Captain,
Herr Feld Marshal Von Clegg, Generalissimo of all the armies of Spain, Lord High Admiral of the Western Ocean, Sky Marshal of the Lesser Magellanic Star Cluster & Satan's favourite little Pixie.