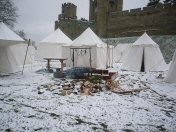 So where to start writing about 4 days of fun, interesting weather, hordes of public and actually being on the winning side?
I suppose the obvious place is the weather - after all we are British and it was quite a dominating feature of the weekend!
So Thursday night we were lucky with not getting the heavy rain that was forcast. Unfortunately during the night the wind got up to near Whitby proportions causing a 4am dash to put the cook tent back up (it turns out the metal barrier stakes are very effective tent pegs!). Morning brought continuing wind, but accompanied by quickly alternating hail and blue skies. Saturday was hail and sleet without the blue sky, but more exciting was Sunday morning. Waking up at 6am to find snow falling and settling was an experience. Warwick looks even more beautiful in the snow! The rest of the day was gorgeous - blue skies with little wind. However the good weather didn't last, the heaviest hail came on Monday especially in the afternoon when we were forming up to do things! Typical! Anyway, I think that's enough of the weather. So to other busines...
I can't tell you much about what went on away from the fire (I felt chained to it all weekend). We weren't required to participate in much during the day - an archery display, the 'grand melee' and a parade. However I do know that William had a nice line in hitting the boat house or the treb with his arrows (but he also hit the target more often than Darren) - you would think that William would be the obvious person to climb up the ladder to retrieve his arrows from the thatch, but no, Darren was sent up instead! Our bill line got progressively larger from the 2 people it started with (Darren did his impersonation of Sergeant Wilson by asking 'if the chaps would mind very much forming over here'), however, it was still tiny compared to the mass ranks of the Gloucesters or the Clarences - a most peculier feeling. We were on the side of Neville, rather than Hastings so were to win each day, however before the reinforcements arrived on the field Paul and Darren were rather outnumbered and on their own! The gun was stationned outside waiting for Kyle to wave a banner from the tower as a signal to fire (the middle two days Tim was stationned on a tower with his hand gun which made a good sound from up there). Unfortunately this was the only time Gwynifer was used as Warwick changed their minds and did not want her for the archery display. She was I think, the most photographed she has ever been as she was in prime place as the hordes of tourists came into the castle. There will be so many photos of her in Japan, America and all over Europe.
Speaking of photos, you could not do anything without being photographed. I failed to butter some bread for my lunch 4 times as I was asked to turn round and pose. And for some reason Paul kept getting all the young ladies sitting with him and bizarely he didn't complain too bitterly...
William had time to practise and perfect his corpse routine.He decided that wearing his helmet was the way forward, and it seemed to be as he was able to lie against Gwynifer or a flag pole for seemingly ages without moving. And as our camp was in perfect position by the main entrance / exit all those tourists who had been round all the waxworks decided to have their photos taken next to this one. Or, parents encouraged their wary children to approach, only for William to suddenly move at the perfect time and elict several screams and many jumps, much to the amusement of those of us watching from around the fire!
The usual stupid questions were asked - are you really going to be eating that (after I had explained all that went in the mounchet) - that sword seems blunt, weren't they sharper than that - why are they making so much smoke etc, etc, etc. It can't however beat the comment aimed at the Clarence's whilst they were busy plucking and skinning a variety of game for a stew - oh look, they've got plastic birds....(We've also been informed that our new St Edward banner looks the same as the character for 'rice' in Chinese, and have decided that St Edmund is a group of pies)
Two Kiwi re-enactors joined us for the weekend alongside a couple of completely new people. Trying to explain to them that slap cock is in fact the real name of a game and not one I had made up to titilate their dirty minds proved to be a running battle all weekend. They weren't even satisfied when the L&M chairman confirmed that I wasn't making it up! Slap cock does however prove to be an extremely effective method of warming up on a cold day....(I'm not sure whether or not the Kiwis uttered the immortal line of 'I can tell you're not from around here' whilst on gate duty, but it will make for an unusual mix of 'Norfolk' accents if they meet up with own own Aussies at an event!)
To our surprise and delight there were gate codes that we knew and actually worked, wood that was chopped and actually burnt! And coupled with some beer and wine provided by the castle on Sunday night things are looking up for events at Warwick!
I must thank Caroline and my new apprentice William for all their help with preparing the food. I wouldn't have been able to manage without them, and I may well have gone crazy if I was the only girl there - the conversations were quite masculine all the time anyway... I have to also thank everyone who helped us pack up on Monday evening. I couldn't believe that we were driving off the site only 25 minutes after the castle had shut. Amazing!
And so, we all went home, tired, cold, grubby and smelly but happy - wondering if we can risk stopping at a service station after a 4 day event?